Tapered Leg Coffee Table with Glass Top - this is a bespoke colour finish but it can be coloured to Mahogany, Yew, Oak, Poplar or Burr Walnut.
The table comes with a fitted bottom shelf. We also offer the table with a polished solid top or leather inlay. For the polished top versions of the table, the Mahogany, Yew and Poplar will have a Tulip Inlay and the Oak and Burr Walnut finish with be plain with no inlays.
These beautiful tables are handmade in Enfield, England within our factory by our own experienced craftsmen. Why not telephone us on 020 8443 2827 to arrange an appointment to visit our factory showroom?

Product Code
H
(cm)
W
(cm)
D
(cm)
Description

Mahogany (£)

Yew
(£)

Oak
(£)
Poplar
(£)

Burr Walnut
(£)

TAP-GLASS-1
54
51
51
20"x20" TAPERED LEG LAMP TABLE WITH GLASS TOP
369
399
421
638
638
TAP-GLASS-2
54
107
46
42"x18" TAPERED LEG LAMP TABLE WITH GLASS TOP
495
535
561
856
856
TAP-GLASS-3
54
122
61
48"x24" TAPERED LEG LAMP TABLE WITH GLASS TOP
619
669
699
1070
1070
TAP-POL-1
54
51
51
20"x20" TAPERED LEG LAMP TABLE WITH POLISHED TOP
322
348
365
557
557
TAP-POL-2
54
107
46
42"x18" TAPERED LEG LAMP TABLE WITH POLISHED TOP
429
464
487
742
742
TAP-POL-3
54
122
61
48"x24" TAPERED LEG LAMP TABLE WITH POLISHED TOP
537
581
609
929
929
TAP-POL-NEST
56
57
44
TAPERED LEG NEST OF TABLES - POLISHED TOP
449
477
501
763
763
TAP-LEA-1
54
51
51
20"x20" TAPERED LEG LAMP TABLE WITH LEATHER TOP
370
396
413
634
634
TAP-LEA-2
54
107
46
42"x18" TAPERED LEG LAMP TABLE WITH LEATHER TOP
494
529
552
846
846
TAP-LEA-3
54
122
61
48"x24" TAPERED LEG LAMP TABLE WITH LEATHER TOP
618
669
690
1070
1070
TAP-LEA-NEST
56
57
44
TAPERED LEG NEST OF TABLES - LEATHER TOP
503
531
555
849
849
Choice of leather colours are below

Tapered Leg Nest of Tables - With Polished Top in Yew finish with the Tulip Inlay
DIFFERENT WOOD FINISHES AVAILABLE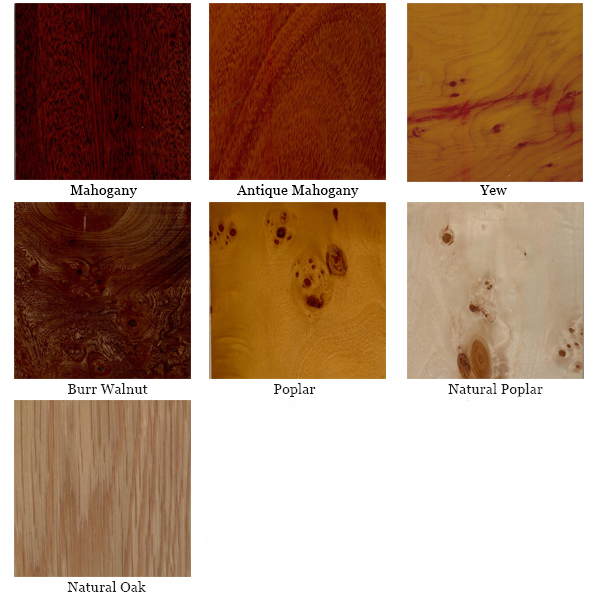 ---
Call us on 020 8443 2827 if you have any questions or to make your order