Classic Coffee Table with 4 Drawers - in Mahogany finish with Tan Leather (the centre drawers are dummy and are only for show)
This beautiful design of table can be made in a variety of wood finishes with the choice of polished or leather top. The choice of leather colours available can be seen below. You also have the option without drawers or with 4 drawers, as pictured above. The drawers are fitted with Antique Swan Handles as standard.
For Polished top tables the Mahogany, Yew and Poplar have Tulip Inlays on top with crossbanding, Oak and Burr Walnut have plain veneered tops without inlays.
All drawers are dove tailed (a traditional method of joinery)
These beautiful tables are handmade in Enfield, England within our factory by our own experienced craftsmen. Why not telephone us on 020 8443 2827 to arrange an appointment to visit our factory showroom?

Product Code
H
(cm)
W
(cm)
D
(cm)
Description

Mahogany (£)

Yew
(£)

Oak
(£)
Poplar
(£)

Burr Walnut
(£)

CL-TABLE-1
50
125
75
CLASSIC COFFEE TABLE - POLISHED TOP - NO DRAWERS
736
794
834
1270
1270
CL-TABLE-2
50
125
75
CLASSIC COFFEE TABLE - POLISHED TOP - 4 DRAWERS
863
923
963
1477
1477
CL-TABLE-3
50
125
75
CLASSIC COFFEE TABLE - LEATHER TOP - NO DRAWERS
809
874
917
1398
1398
CL-TABLE-4
50
125
75
CLASSIC COFFEE TABLE - LEATHER TOP - 4 DRAWERS
949
1016
1059
1626
1626
DIFFERENT WOOD FINISHES AVAILABLE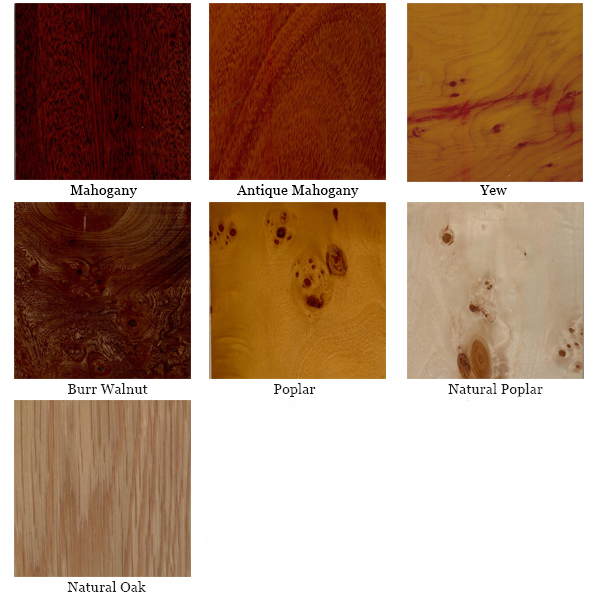 ---
Call us on 020 8443 2827 if you have any questions or to make your order