About Us
Established in 1985, A1 Furniture is a family business experienced in the manufacture and supply of fine quality English reproduction furniture and is specialised in leather upholstery and cabinets. All of our furniture is handmade using traditional manufacturing methods and our expert craftsmen produce all pieces in-house using time-honoured skills that have been passed down through many generations.
We pride ourselves on offering fine English reproduction furniture that combines elegant styling with the highest quality production and offer a personal service to each and every one of our customers. We'll work to your exact specifications and requirements to ensure that your furniture both lives up to and exceeds your expectations. Our belief is that furniture characterises its owner and we work to make certain that every piece is finished to the highest quality so that every piece of furniture can be fully appreciated and admired for years to come. Based in Enfield, North London, we create each piece of furniture in our specialist factory and welcome customers to view the range first-hand at any convenient time, 5 days a week. Open by appointment only, just drop us a line and we'll be happy to show you through our extensive collection in the factory showroom and can discuss your exact furniture requirements to ensure customer satisfaction.
All of our furniture is individually manufactured and we offer a bespoke service to ensure that every customer's needs and requirements can be fulfilled. Unlike some companies, our bespoke prices follow suit to our mainline collection and each piece of furniture carries a price tag that reflects the materials used and work involved in manufacturing - with A1 Furniture bespoke furniture is a realistic and affordable option for all.
Specialists in contract work also, A1 Furniture works with a broad cross-section of clients from luxury hotels, restaurants, bars and cruise ships to offer quality furniture for any interior space.
Further to our wide selection of furniture available, A1 Furniture is proud to offer a full-range of interior products and services including table lamps and clocks for home/office decoration, a curtain-making service and an extensive collection of leather care products.
For further information on any of our products or services, please get in touch with our expert team on
t: 020 8443 2827 or email: contact@a1-furniture.co.uk and we'd be happy to help. Why not take a look through our customer testimonial page and see comments from customers who have already experienced our quality A1 Furniture.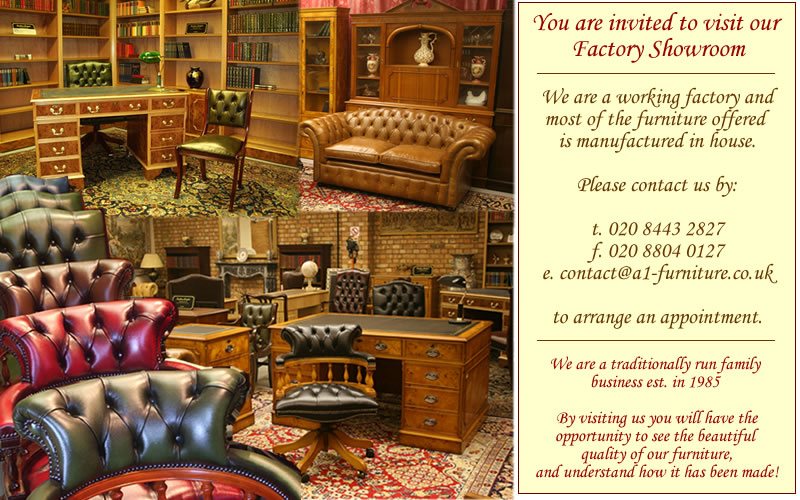 A1 Furniture has a Factory Showroom that you can visit 5 days a week (by Appointment)! Monday to Friday 10:00 til 16:00
Please call on 020 8443 2827 to arrange your visit.